If not for Giuseppe Moretti, the Murphy Marble Belt (32½ mile long deposit of Alabama White marble) in Sylacauga would probably be used merely for its calcium carbonate, crushed into a powder and added to such miscellanea as paint, cosmetics, and glass. Giuseppe Moretti was an Italian artist who introduced the idea of processing stone for art and architecture to the marble industry in Sylacauga.
Moretti's formal training as an artist gave him a penchant for fine stone, and as such, Alabama White marble became the subject of his highest praises. Out of the first piece of Alabama White used for art, Moretti sculpted "Head of Christ". Both the bust of Jesus Christ and Vulcan (the largest cast iron statue in the world), also sculpted by Moretti, were a part of Birmingham's contribution to the 1904 World's Fair in St. Louis. The sculpture is currently on display at the Vulcan Museum in Birmingham, AL.
After this point in American history, Alabama White marble found its way into some of the most treasured collections of American art and architecture.
In 1908, the man who sculpted the portraits on Mt. Rushmore, Gutzon Borglum, crafted a portrait of President Lincoln from a block of Alabama White marble. The massive sculpture, now in the U.S. Capitol Crypt, was originally a study, according to the artist.
In 1929, Chief Justice William Taft (formerly President 16 years earlier) chose architect Cass Gilbert Jr. to design the Supreme Court building. In his design, Gilbert used Alabama White to veneer the walls and floors of the Great Hall, the entrance passage to the courtroom.
In 1848, the construction of the Washington Monument was delayed soon after commencing due to a lack of funds and the onset of the Civil War. Members of the Freemason Lodge of Alabama persuaded Congress to receive donations of stone blocks to use for the interior of the obelisk. In 1854, The Freemason Lodge of Alabama donated an engraved block of Alabama White Marble to the construction of the monument. The block is located at the forty foot level on the West side of the monument. Alabama was the first to make such a contribution to the monument, a gesture that would be followed by organizations all over the world.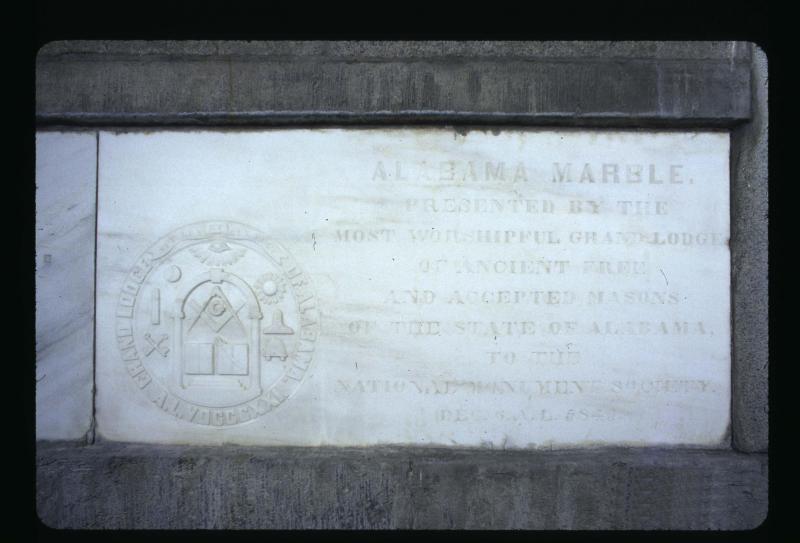 What might otherwise be viewed as a mundane material, Alabama White marble is deeply involved with the history of Alabama and of the nation as a whole. From the largest deposit of white marble in the world, Alabama White marble finds itself among the nation's most important landmarks and artworks.
History ·
16 July 2013